Luxury Accommodation South Australia
Naiko Retreat in Deep Creek
The stars shine bright away from city lights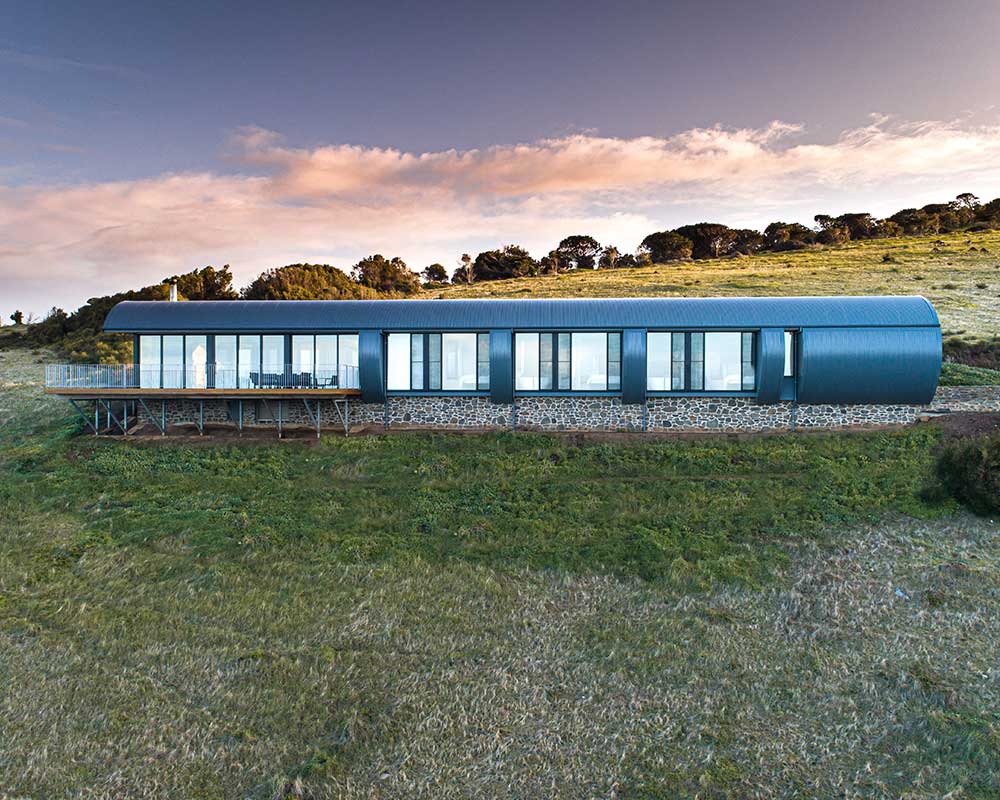 Luxury Self-Contained Accommodation Fleurieu Peninsula
Nestled between Deep Creek National Park and Talisker Conservation Park, Naiko Retreat (pronounced Nay-co) is located approximately 90 minutes from Adelaide, South Australia on the tourist treasure Fleurieu Peninsula.  Situated on a 2000-acre farm known as "Rarkang", the Retreat is set majestically on a cliff overlooking its own pristine and secluded beach and beyond with uninterrupted views across the Southern Ocean to Kangaroo Island.
The eco conscious and secluded Retreat sleeps a maximum of six guests in three spacious, identical king bedrooms each with its own luxury ensuite bathroom.  The king beds can be split into king single beds.
The open plan living area features a fully equipped gourmet kitchen, modern yet comfortable furnishings and an Invictus efficient, low emission woodburning fireplace provides all the heating for the Retreat during the cooler months.
The rear terrace is the perfectly sheltered spot for the Weber electric BBQ and alfresco dining. The expansive front deck, with comfortable outdoor lounge furniture, overlooking the beach is perfect for relaxing with a book, letting your mind wander as you stare out to sea or and enjoy nibbles and drinks while the sun goes down.  In summer the cooling ocean breeze is the perfect antidote after a walk around the property.
Unique Eco Retreat Accommodation South Australia
Designed by Max Pritchard, Naiko Retreat is an Eco-Accredited retreat and was constructed to have as little impact on the environment as possible. The distinctive wave-like design of the Retreat exists in harmony with the surrounding landscape which is reminiscent of the Scottish coastline. The innovative design and position allows for total privacy so there is no need to lower the blinds.
The Retreat is completely off-grid with power supplied by a solar and battery system with a back-up generator. The Retreat relies on rainwater which is collected in tanks tucked behind the retreat and other tanks at the top of the property.  Water is filtered and safe for consumption.
The stylish and modern interior provides luxury and comfort and the double-glazed floor to ceiling sliding doors and windows allow for unparalleled views of the landscape and Backstairs Passage. The east-west aligned fully insulated construction provides thermal mass and the rear courtyard and extensive windows to the north make for excellent passive solar design. To complete the insulation the double-glazed windows are filled with argon gas.  Operable doors and windows down the length of both sides of the house allow for good cross ventilation.  The evaporative cooling system is only needed on extreme summer days and there are energy efficient DC ceiling fans throughout.
An efficient, low-emission wood-burning heater keeps you warm on those cold nights and heat can be ducted through to the bedrooms. Energy efficient appliances, worm farms, compost bin and a Biocycle Septic system complete the eco-friendly retreat.
Futuro – The "Deep Creek Spaceship"
The Futuro is a local phenomenon and many a Heysen Trail walker has been surprised by the sight of a spaceship sitting quietly amongst the she-oaks next to Naiko Inlet.
The iconic Futuro House was designed by Finnish architect Matti Suuronen in 1968 as a portable ski chalet.  This particular Futuro, and one of approximately 60 left in the world, was originally located in Melbourne Street, North Adelaide before making its final landing at Rarkang, the home of Naiko Retreat.  Futuros have a cult-like following with people from all over the world travelling to specifically see these spaceships.
While the Retreat was still in the "dream" stage, the Futuro fell into disrepair.  When Naiko went from "dream" to "reality" the Futuro was given a new lease on life and after extensive renovation became the tranquil and relaxing wellness hub for guests to enjoy some pampering and a variety of massage therapies. The Futuro is not part of the retreat accommodation and is only available to guests who book a massage with one of Naiko's preferred therapists.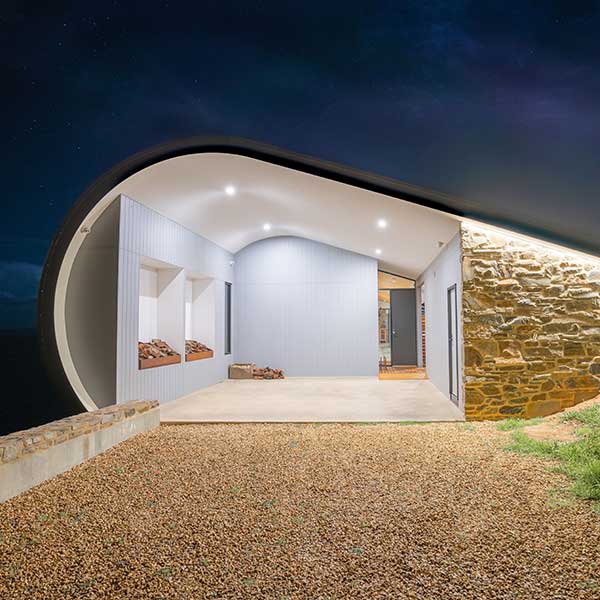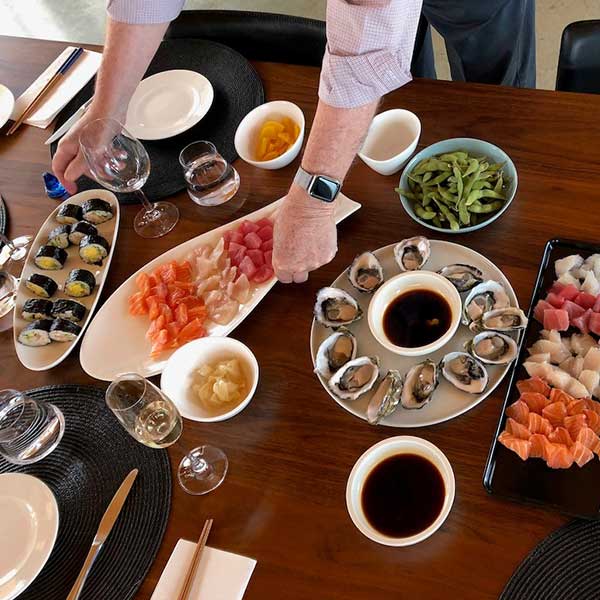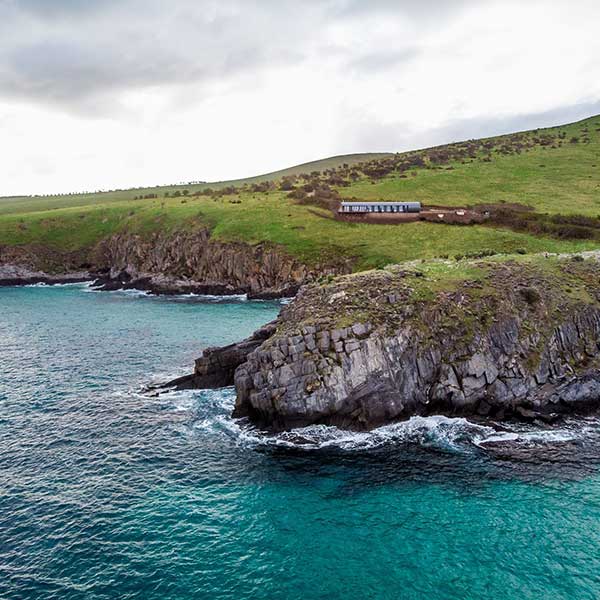 Luxury Beachfront Accommodation
Naiko is located at the at the bottom of rolling hills on the edge of the rugged cliffs of the Fleurieu Peninsula.  The secret inlets and coves will have you exploring for hours and imagining the possible nefarious activities of smugglers in days gone by.
Guests are just a short stroll to Naiko's own secluded beach with its crystal clear aquamarine waters which are perfect for swimming.  There is a wicker picnic basket and beach chairs available for a perfect day at the beach and afterwards guests can enjoy the rustic (cold water) outdoor shower to rinse off the sand and salt before heading inside the Retreat.
The local pod of dolphins are regularly spotted lazily swimming near the rocks of Naiko's beach and from May through to October guests have a front row seat to whale watching.
Each bedroom features king size beds, which can be split into king singles, with luxury extra-deep mattresses and crisp white bed linen, soft touch reading lights, automated blinds and spacious built-in-wardrobes.
The floor-to-ceiling double-glazed windows in the bedrooms are not only energy efficient and keep you cocooned from storms, they can also be opened so you can be lulled to sleep by the sound of the waves below. They also allow guests to take in the pristine beach and vast expanse of ocean and Kangaroo Island while either lounging in bed or soaking in the freestanding bath with a glass of wine.
The expansive deck with comfortable outdoor couches and arm chairs are perfect for sea-gazing, relaxing after a day of walking or swimming and, of course, watching the sun go down.
There is also a rear courtyard which is protected from the on-shore winds and perfect for a BBQ and alfresco dining.
Naiko Retreat Rates
Monday – Thursday: $1584 per night
Friday – Sunday: $1860 per night
15% discount when booking 3 nights or more
Exclusive use of Naiko Retreat
Three King-size bedrooms, which can sleep a maximum of 6 guests in either king size or king single configurations
Full breakfast provisions
Given the design, luxury furnishings and types of exclusive experiences available at Naiko Retreat, it is an adults-only accommodation.  However, children over the age of 16 are welcome provided they are accompanied by an adult
The Retreat is part of a working sheep farm situated between two national parks and pets are strictly prohibited
A two night minimum stay applies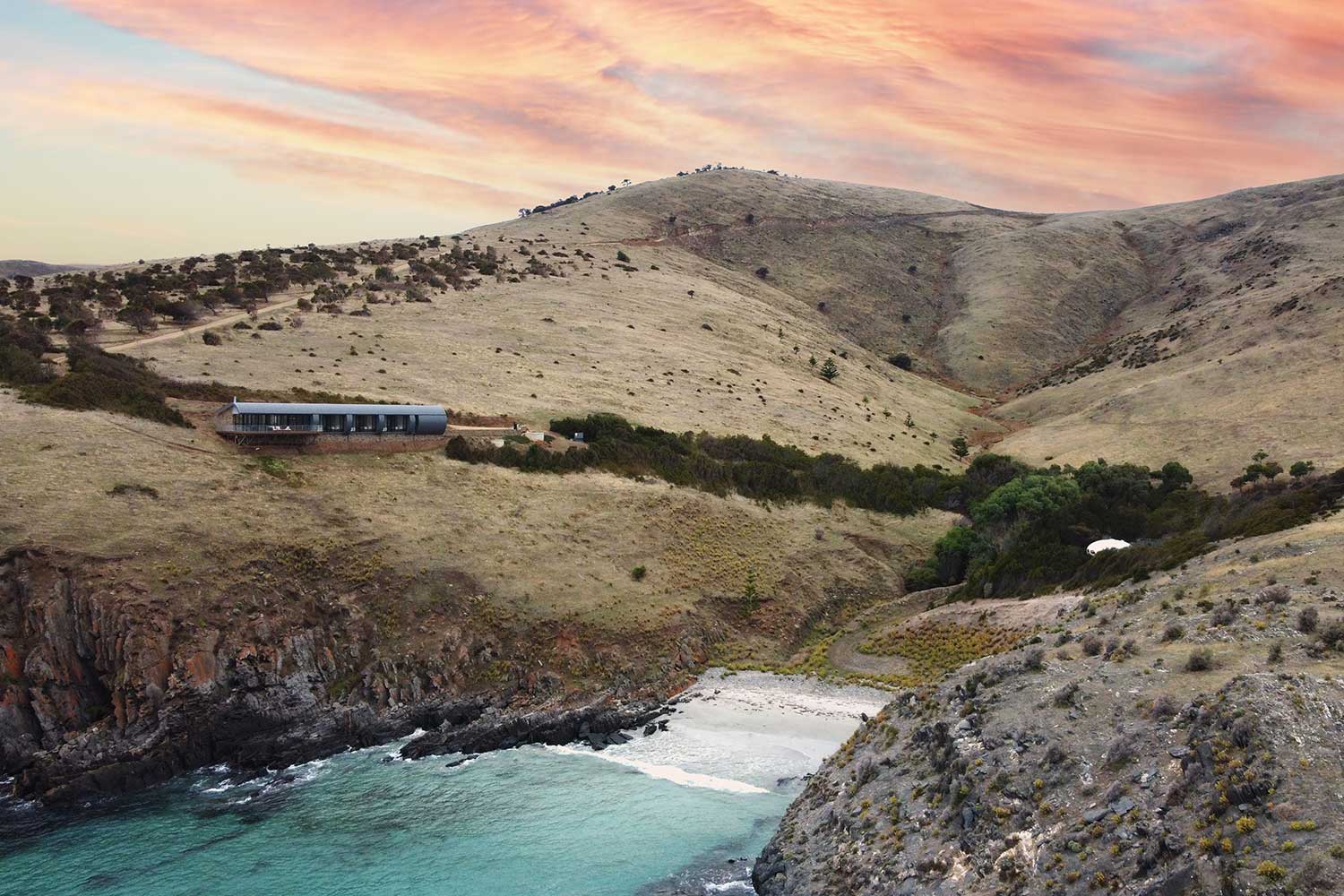 Remote South Australian Accommodation
The property is a unique paradise of rolling hills, deep gullies and sheer cliffs with sheltered coves and beaches.  Guests can experience the wild and simple solitude of this remote property without sacrificing luxury and amenities.
The property is bounded by two national parks and wildlife is all around.  Looking out to Kangaroo Island across Backstairs Passage you are likely to see dolphins and seals, enormous shoals of small fish near the shore and, from May to October, southern right whales on their annual migration.
Naiko is a paradise for birdwatchers and walkers, for those wanting to get away from the hustle and bustle of everyday life and to digitally detox.  For those who are reluctant to fully disconnect, Wifi and Bluetooth are available.
Gazing out over the surrounding hills guests will see mobs of kangaroos, the occasional echidna ambling along, goannas, deer and black cockatoos and eagles soaring overhead.  Campbell Gully on the property is home to a pair of Wedge-tailed eagles who have a nest high up in the trees.
The Fleurieu Peninsula is also home to a pair of rare white-bellied sea eagles who have their nest on along the cliffs.
Guests have exclusive use of the Retreat and the four bespoke walking trails on the property. The only people you may see are the occasional walkers on the Heysen Trail which passes through the property.
Naiko offers guests the chance to totally immerse themselves in nature, to relax, digitally disconnect and connect with the environment, family and friends.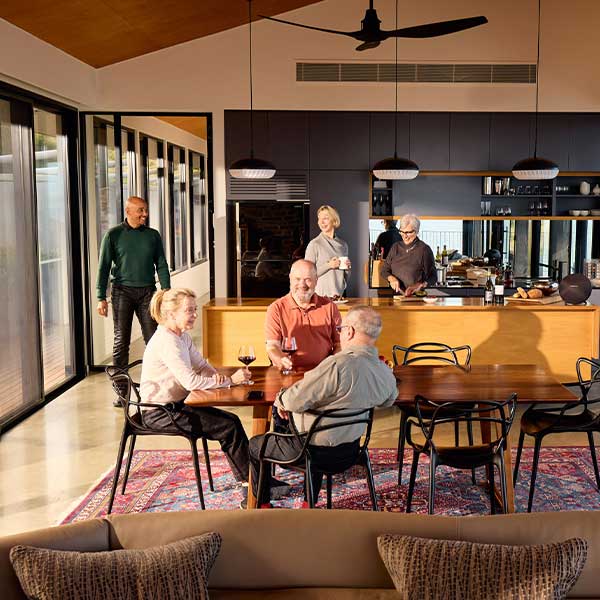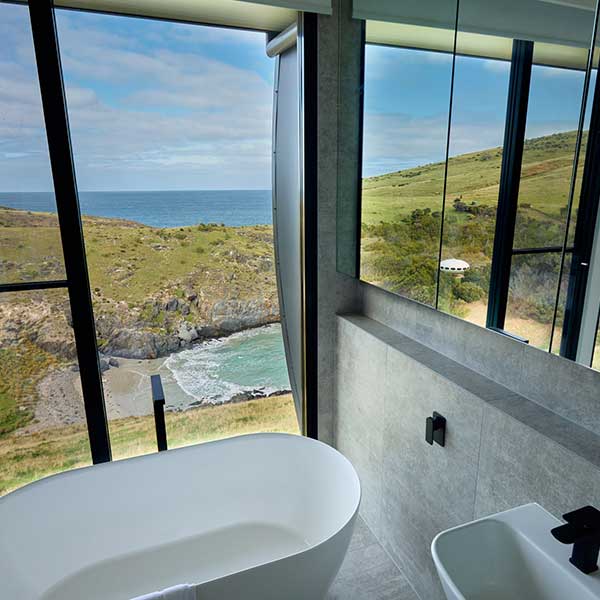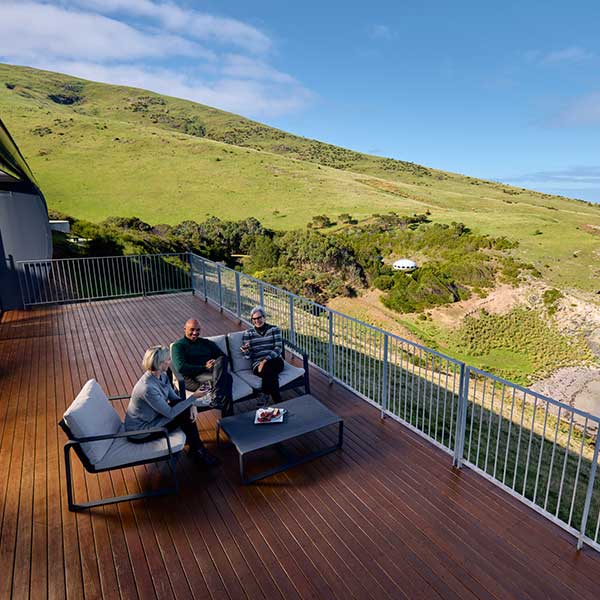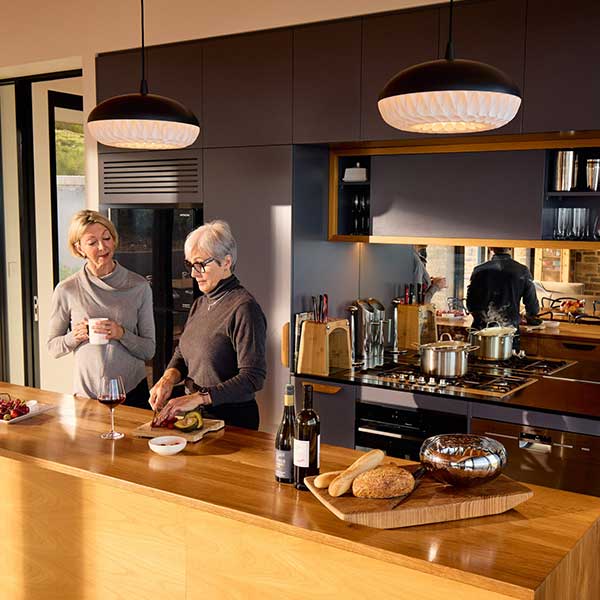 Self-Contained Retreat
Naiko Retreat is a luxury self-contained single unit sleeping a maximum of six guests in three well-appointed king bedrooms, each with luxurious spa bathrooms.  The free-standing bath is perfect for a long soak while gazing out to sea.  The large walk-in rain-head shower will ease the tension out of tight shoulders and leave you feeling relaxed and refreshed.
The Retreat is self-catering and a fully equipped gourmet kitchen will bring out the inner MasterChef in guests.  A full-size fridge, 90cm gas cooktop and 60cm electric oven with a steambake function and a dishwasher completes the major appliances.
Small appliances include a Nespresso coffee machine, kettle, toaster, slow cooker, sandwich press and Nutribullet.  There is a good selection of pots and pans, crockery, cutlery, serving dishes and platters, glasses for all occasions and bar accessories.
A well-stocked pantry provides all the basic essentials including olive oil, balsamic vinegar, a variety of herbs, spices and stock cubes, sauces and condiments, some essential canned goods, pasta, flour, sugar, cereals and a selection of Nespresso coffee pods and teas.
Substantial breakfast provisions are provided and include fresh local eggs and South Australian bacon, avocadoes, tomatoes, mushrooms, in-season fruit, bread, local Beerenberg jams and honey, Fleurieu milk and yoghurt, fruit juice and butter.
Should guests feel like indulging and not cooking, they can order ready prepared meals and platters through our recommended caterers who can also cater dinner parties at the Retreat from a romantic dinner for two to celebrations for significant events.
Romantic Accommodation South Australia
Naiko is the perfect romantic getaway for proposals, honeymoons, anniversaries, special occasions and elopements. 
Although the Retreat can sleep up to six guests, couples often choose Naiko to have quality time together without intrusion from others. 
Naiko has been host to numerous, very intimate weddings.  Naiko does limit the number of guests attending at the ceremony and celebration so enquiries should be made with the Manager before booking Naiko and planning that special day.
In winter, the fireplace beckons you to curl up next to it, open a bottle of wine, read that bestseller, play backgammon or just watch the weather roll in over the ocean.
In summer, enjoy lazing in the crystalline waters of Naiko's very own private and secluded beach or go for a romantic walk along the cliff edge to Blowhole Beach.  Sit out on the deck overlooking the Futuro spaceship and the beach below and watch the sun go down.
Simple, romantic pleasures.