Hidden Gem in South Australia
Accommodation between Deep Creek and Talisker Conservation Park
Naiko Retreat is perched majestically in splendid isolation on a remote cliff in Deep Creek.  Surrounded by two national parks, Talisker and Deep Creek, the diverse landscape provides a home to an abundant array of birds and wildlife.
An escape to this hidden gem is the perfect opportunity for guests to relax and disconnect from their busy lives.  Switching off and reconnecting with nature, family and friends is what Naiko is all about.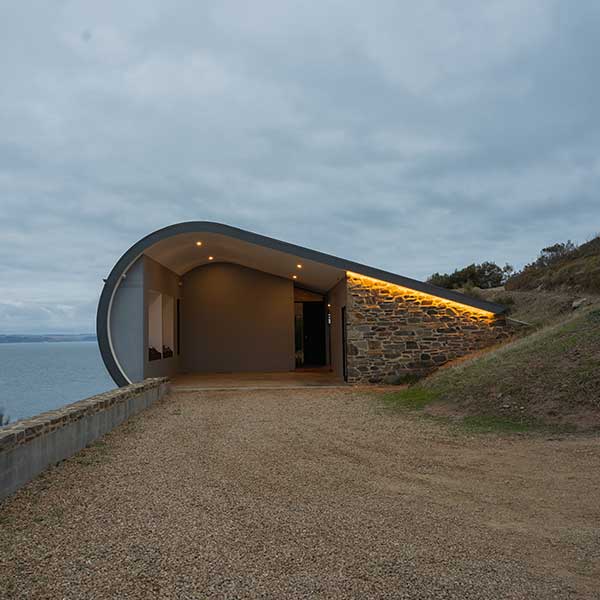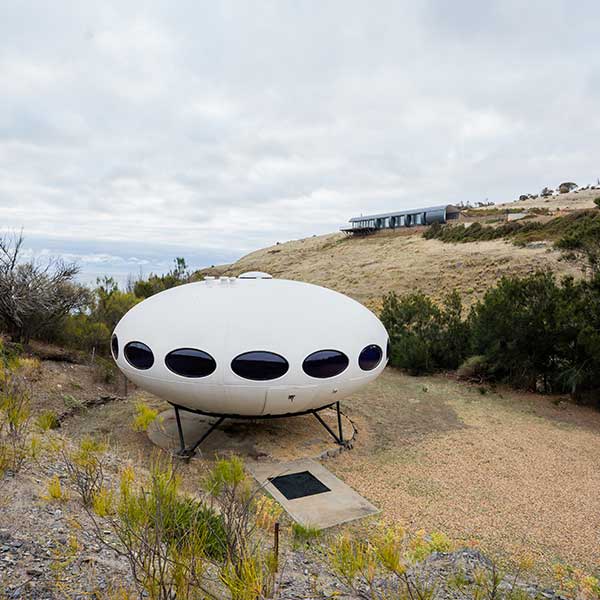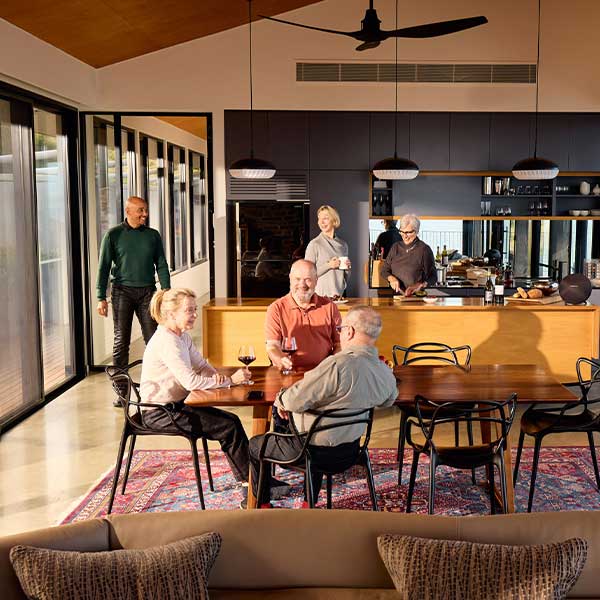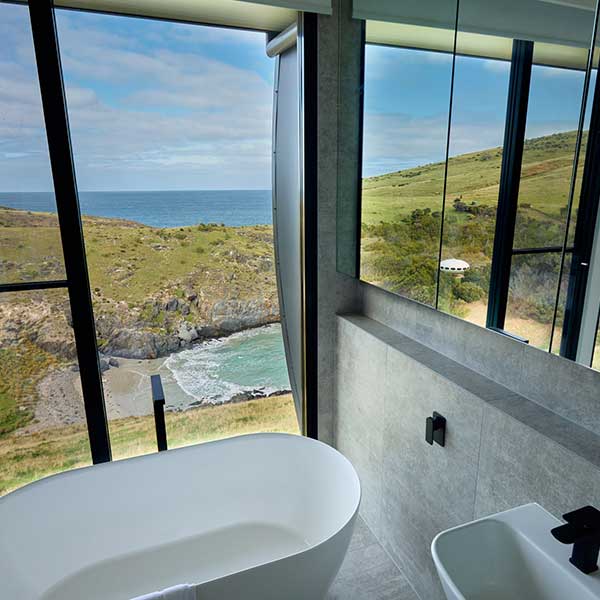 Rarkang and the History of Naiko
Rarkang is the 2,000 acre working sheep farm on which Naiko Retreat is situated.
The area is steeped in indigenous history with deep connections to Dreamtime.
Naiko was named for the inlet on which it stands and is the Ramindjeri word for "Mother".
The area is also known for its rich European history.
In 1802, Matthew Flinders, English navigator and explorer, and his French counterpart, Nicholas Baudin, charted the coastline. Baudin named the peninsula in honour of another French explorer, Charles, Count of Fleurieu.  Fishermen, whalers (mostly American) and sealers also sailed the waters around the Fleurieu Peninsula in search of easy catches and many made their fortunes in these waters.
In 1862, while prospecting for gold, the McLeod brothers discovered an outcrop of silver-lead ore.  They named the lode "Talisker of Scotland" after their hometown on the Isle of Skye.  In the same year the Talisker Mining Company was formed and employed Cornish miners who settled the small town of Silverton with their families.  The town grew to a population of about 300 and boasted its own Cobb & Co stagecoach post, post office, hotel and eating house and school-cum-chapel.  The ruins are located within Talisker Conservation Park near the boundary between Naiko and Talisker.
The Johnson family acquired the property in 1998 with the mission of preserving and revegetating the land not only for future generations to come, but also to provide a habitat for some of Australia's iconic wildlife.
The more time the Johnsons spent on the land, the more they wanted to share the rugged beauty and rich history with others and so the dream to build Naiko took hold.
The lands around Rarkang and Deep Creek are associated with the Ramindjeri Indigenous people who lived in the region and all knew variations of the Ngurunderi Dreaming story which explains to the tribes their creation.
The Dreaming story tells of how Ngurunderi quarrelled with his two wives who then ran away from him.  While he chased them, he created the mighty Murray River and other land formations as well as animals and plants.  The women eventually ran past Blowhole Creek and as they made their way to the land bridge which connected Kangaroo Island to the mainland Ngurunderi yelled from the clifftops for his wives to stop.  When they did not obey him, he grew angry and called for the seas to rise.  His wives drowned and their bodies fell into the sea becoming what is now known as The Pages, two small islands located in Backstairs Passage, the strait which separates Kangaroo Island from the Fleurieu Peninsula.  The Pages can be seen from Rarkang.  Kangaroo Island was also formed when the raging waters rose up and covered the land bridge.
Ngurunderi then crossed to Kangaroo Island to rest and when the sound of the wind in the trees made him mourn for his wives, he knew it was time to leave this world.  He dived into the sea to enter the spirit world and now he can be seen as the brightest star in the Milky Way."
Luxury contemporary furnishings
Fully Equipped Kitchen
Masterchef-worthy fully equipped and stocked gourmet kitchen with full size refrigerator/freezer, gas cooker and dishwasher
Well stocked pantry of basic staples
Substantial local seasonal breakfast supplies
Complimentary Chain of Ponds wine
Front deck with outdoor lounge furniture
Back deck with outdoor dining furniture
Three spacious bedrooms with king-size beds able to be split into king-singles
Soft-touch reading lights and ceiling fans in the bedrooms
Three luxurious ensuite spa bathrooms
Luxury all-natural eco Vasse Virgin bathroom products
Mandarin&Vanilla liquid soap, body lotion, shampoo and conditioner
Fluffy white bath towels and makeup-specific face-cloths
Fluffy white terry bathrobes and complimentary spa slippers
Laundry with washer, dryer, iron, ironing board and EcoStore laundry powder
Low-emission, wood-burning fireplace
Evaporative cooling system
Exclusive use of the retreat and total privacy
Picture-perfect private beach
Folding chairs, picnic blanket and picnic basket
Collection of books and board games
Telstra for best free Wi-Fi coverage
Bluetooth Harmon Kardon speaker
Unsurpassed views with Exclusive-use walking trails
5 Star Accommodation South Australia
With exceptional attention to detail, amenities and guest experiences, Naiko Retreat was the first self-catering accommodation in South Australia to achieve 5 Star Accreditation.
With regular 5 star reviews from guests, Naiko Retreat's luxury accommodation in an idyllic remote setting is the perfect romantic getaway for couples or for family and friends to disconnect from their busy lives and to reconnect with each other and immerse themselves in nature.
Naiko Retreat Rates
Monday – Thursday: $1584 per night
Friday – Sunday: $1860 per night
15% discount when booking 3 nights or more
Exclusive use of Naiko Retreat
Three King-size bedrooms, which can sleep a maximum of 6 guests in either king size or king single configurations
Full breakfast provisions
Given the design, luxury furnishing and types of exclusive experiences available at Naiko Retreat, it is very much an adults-only accommodation.  However, children over the age of 16 are welcome provided they are accompanied by an adult
The Retreat is part of a working sheep farm situated between two national parks and pets are strictly prohibited
A two night minimum stay applies