Massages, Yoga and Pampering
Turn your stay at Naiko into a personal wellness retreat.  For some pure indulgence and an unforgettable experience guests can book massages in the Futuro with one our preferred service providers.  Massages can also be carried out in the Retreat.
The iconic Futuro (spaceship) is one of only 60 Futuros left in the world and the only one in South Australia.  After extensive renovation it is now a truly unique relaxation and wellness space.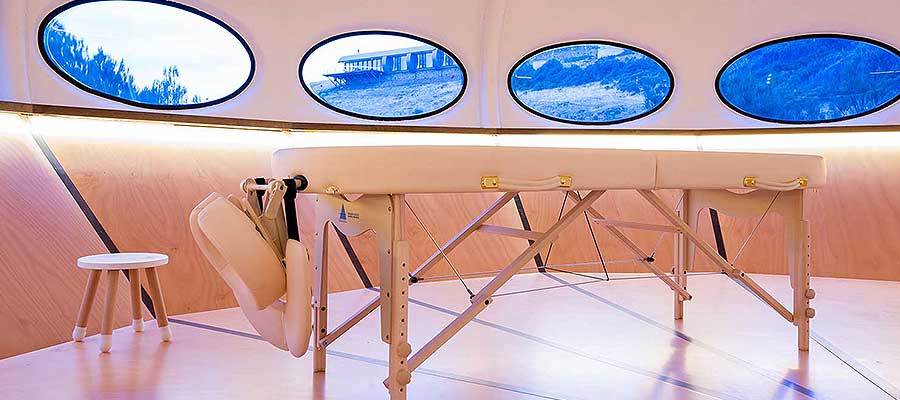 Normanville Remedial Massage
Robyn Cleggett
On-Site Experience
Relax, Rejuvenate and Renew with Robyn.  Robyn Cleggett provides remedial, deep tissue/sports, myofascial release and relaxation massages.  With 20 years' experience and using a fusion of techniques, Robyn tailors massages to suit the individual.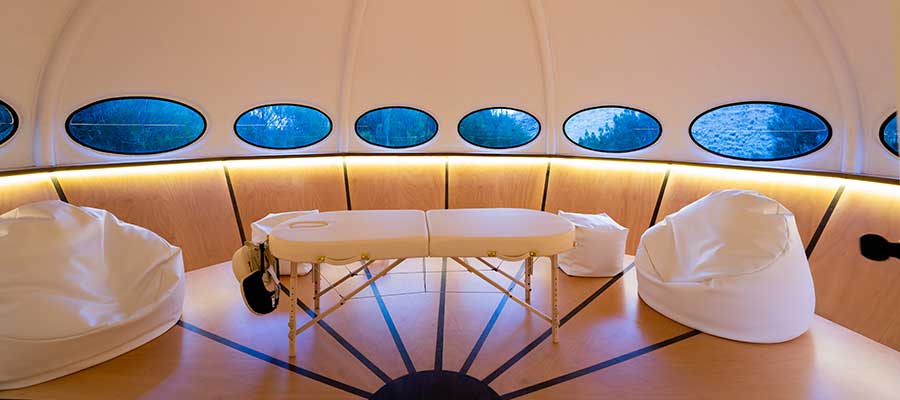 Sabai Authentic Thai Massage
Da Jaisue
On-Site Experience
Da Jaisue offers traditional Thai Massage, foot massage and oil massage.  Thai massage is unlike typical western-type massages where clients lie on a massage table.  Instead, one lies fully clothed on a mat on the floor while the therapist uses a combination of stretching, pressure and movement techniques to relieve tension, promote relaxation and improve flexibility.  Thai massage is often referred to as assisted yoga.
Manicures and Pedicures
Da Jaisue not only offers traditional Thai massages but also manicures and pedicures.  For a little extra pampering, combine your pedicure with a Thai foot massage to relax and invigorate tired feet.
thanapornjaisue@gmail.com
Pause InHouse Wellbeing – Yoga and Therapeutic Massage
On-Site Experience
Enjoy a yoga class on the deck overlooking the ocean with the sound of the waves in the background.  An experienced teacher will guide your body and mind into a deep state of relaxation leaving you completely present with your surroundings.  Classes are suitable for all levels of experience, including those who have never stepped foot on a yoga mat.  In inclement weather the class will be held inside the Retreat but the view will still be just as good.
Pause inHouse Wellbeing also provide therapeutic massages.  Guests can choose a full body relaxation experience or simply have the therapist focus on any tension spots.
Massage & Yoga | Adelaide Pause Inhouse Wellbeing
info@pauseinhousewellbeing.com
Naiko Retreat Rates
Monday – Thursday: $1584 per night
Friday – Sunday: $1860 per night
15% discount when booking 3 nights or more
Exclusive use of Naiko Retreat
Three King-size bedrooms, which can sleep a maximum of 6 guests in either king size or king single configurations
Full breakfast provisions
Given the design, luxury furnishings and types of exclusive experiences available at Naiko Retreat, it is an adults-only accommodation.  However, children over the age of 16 are welcome provided they are accompanied by an adult
The Retreat is part of a working sheep farm situated between two national parks and pets are strictly prohibited
A two night minimum stay applies